ALL CATEGORIES
INVESTORS
How do referral vouchers work?
After registering at GoParity, all users get a referral code, which they can share with anyone who is above the age of 18.
This code allows our investors to earn an additional income by sharing GoParity with their friends and family, and at the same time, it allows them to earn a bonus on their first investment.
It's easy to invite anyone to GoParity. Just follow the steps:
1. The user shares their code, like in the image below ( FRANC18958) with a friend, family member, or acquaintance.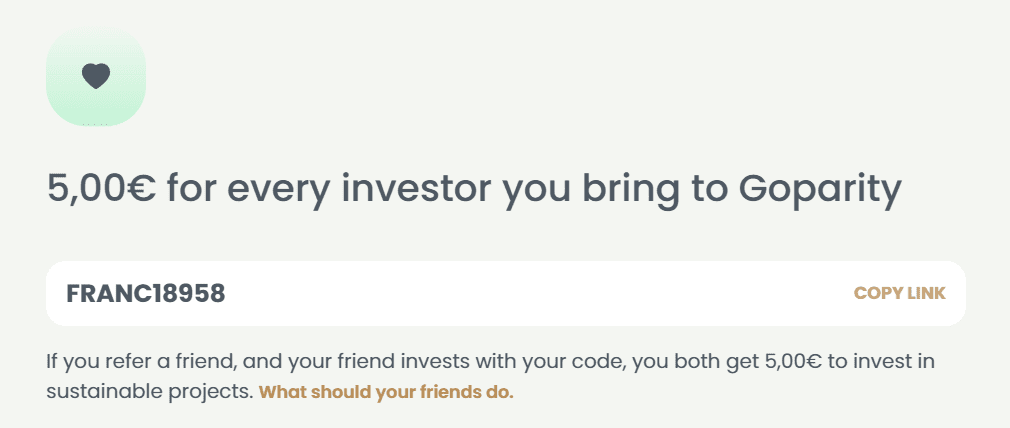 2. The friend, relative, or acquaintance of "Francisca" registers using the link or adds the code manually in their personal profile, under the "Vouchers & Gifts" section, and makes her first investment on the platform (minimum 5€).



3. Once the friend, relative, or acquaintance makes their first investment, the user who shared the code ("Francisca") will see an indication of a voucher in "pending" in their wallet.
4. The voucher will be automatically added to your next investment and will be valid for the next 30 days!
5. In this example, all friends registered with the code will receive 5€ in their first investment. In turn, if "Francisca" invests 25€ in a project, and has a voucher in pending status at the time of investment, she will actually be investing 30€, with 5€ offered by GoParity.
This means that if you share your referral voucher with 10 friends and they invest, you will get 50€ and counting of free money to invest, no strings attached.
Let's do this? Spread the word so that more people can join the good side of investing!