ALL CATEGORIES
INVESTORS
How does the Secondary Market work?
Our Secondary Market allows investors to buy and sell investments in ongoing projects (the process requires the user to log in to their account before accessing the page). This secondary market allows new investors to invest in projects that have already closed, and current investors to sell their current positions.
To liquidate a position, you should place an offer on Marketplace, following these easy steps: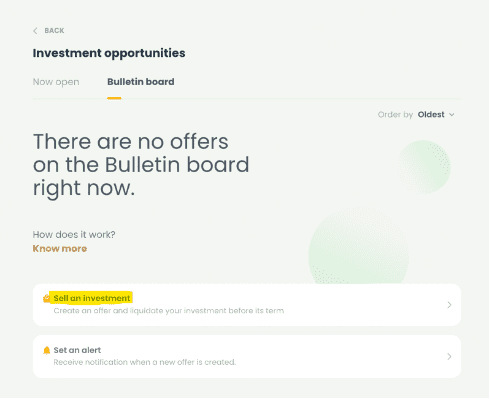 When another investor accepts your offer, a Credit Assignment Agreement is established between you and the investor buying your investment.

After this, the capital owed to you at that moment will be credited to your wallet. Please note that a 1% (+VAT) commission will be charged on the position sold to the new investor.
Please bear in mind that:
You cannot sell a portion of your investment, you must sell it in its entirety.

Projects that have been in default or whose promoter is in default in other projects made available on the Goparity platform, or that were recently restructured will only be allowed on Marketplace 6 months after the latter has been implemented, or the default reverted. This is to protect our investors from possible losses and excessive exposure to risk.

You can only sell your position 30 days after the contract between you and the promoter was signed.
Do you wish to purchase an offer on the Marketplace?
If you wish to expand your investment opportunities and invest in a project that is no longer open to investment but that you wish you had invested in, then Marketplace is the right place for you. Just follow these steps:
Access the Marketplace and check the available opportunities.

Decide on which offers you would like to invest in.

Once you have invested, a Credit Assignment Agreement will be issued between you and the investor who sold his position, to formalize the ownership transfer.
From that date on, you will receive the capital repayment installments as well as the associated interest payments in line with the original payment plan of the project you have invested in.
Investors purchasing a position on the Marketplace incur no fees. Please also note that the resell values are fixed; neither prospective investors nor prospective sellers can bid or set the offering price of the position, respectively.